Young Inventor Turns to CAD CAM System for Design Innovation
May 6th, 2015
Nick Erickson
Nineteen year old Easton LaChappelle isn't your average teenager. At 14, his idea of fun was designing a robotic hand that he could control with his own hand through sensors and radio technology. Since then, his ideas and inventions have brought him face to face with the President of the United States, he's fielded phone calls from world famous motivational speaker Tony Robbins, started his own business that is changing the artificial limbs industry, and he even works for NASA.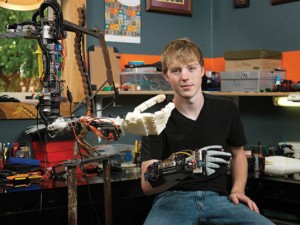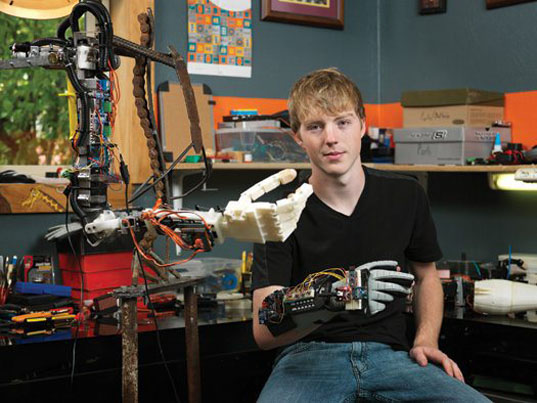 If you ever looked up child prodigy in the dictionary, Easton LaCheppelle's picture would be there. At only 19, he's already dedicated much of his young life to developing new technologies that are having a real impact on the lives of so many people. When BobCAD-CAM, Inc. created the Manufacturers of the Future program, they had hopes that the program would one day help people just like Easton bring their innovations to life.
Easton's first robotic hand creation opened many doors for him. Before he was able to create it, he needed to research and learn a lot about the various technologies that go into producing robotics. He studied electronics, sensors, motors, wireless radios, and CAD modeling among other sciences. Online resources like the "Maker" type sites and Instructables.com provided helpful resources for aspects of his project but there were no tutorials for what he was hoping to create. He had to learn much of it on his own and piece it all together.
Once he had completed his first robotic hand, he open sourced his work as a way to give back to all of the various communities that helped him get to that point. This is when he first noticed the impact his work was having. Schools all over the world began sending him videos of their projects they were able to create based of his work.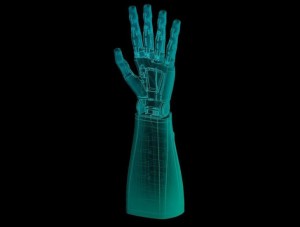 As Easton continued to refine his work, he began working with 3D printing. Having a limited budget, 3D printing offered him a practical way to implement his project. At 14, he designed a 3D model hand in a CAD design system and had it 3D printed through Makerbot.
At this point, he began entering his robotic hand design into science fairs where he quickly gained recognition for his innovative project. Beyond gaining traction for his design at the fairs, he also met a 7-year old girl that would forever influence his motivation behind his work. This particular girl had an artificial limb that cost $80,000. Realizing the tremendous cost and the fact that children require a series of prosthetics as they grow, he saw a group of people whose lives could change with the advancements he was working on.
He began talking with as many prosthetic users as he could to learn as much as possible. What he learned was that these devices really weren't centered on the user's needs. Instead, they seemed to be built around a problem. For instance, most prosthetic hands focus on open and close. Easton decided artificial hand should have natural functionality, strength, weight, and aesthetics.
For his 16th birthday, he received his first 3D printer from a Kickstarter project. He began prototyping day in and day out until he had his first 3D robotic arm that was designed around a user, rather than a problem. It was a rudimentary design with limited capabilities but it let him know he was on the right path. He eventually incorporating brain wave sensors into his design through a headset and wireless radios to get the arm moving the way he wanted it. All of this was complex design work and he needed to make it simple, that's when things really took off for Easton. His first prototype was featured in Popular Mechanics Backyard Genius.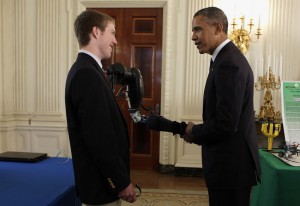 After placing 2nd in the world for engineering at the 2012 International Science Fair, he was invited to attend the White House Science Fair. While there, he met President Obama and even had the President give his robotic hand a handshake.
In 2013, Easton received a phone call from American life coach, self-help author, and international motivational speak, Tony Robbins. Robbins was interested in working with Easton. Throughout his career, Robbins has worked with numerous people trying to overcome psychological issues, including individuals who have lost a limb.
After graduating high school, Easton and two others formed the company Unlimited Tomorrow with the help of Tony Robbins to develop life changing technology in the prosthetics industry. During the early days of the company, they were faced with figuring out how to turn their ideas into reality. They needed to supplement their 3D printing to produce their complete product. They turned to CNC machines and CAD CAM systems to design their parts, develop their CAM programming, and machine their parts.
This is when Unlimited Tomorrow found BobCAD-CAM. Easton explained, "Because we do a lot of very precise and accurate machined parts using the 4th axis capabilities, we needed someone who was definitely an industry leader that was also used in the medical and aerospace industries…we needed a company that had the corporate structure to continue development and who would work with us and provide us with the specialty type machining things we need. We're all about efficiency. Being that we can sit down and design something and have it being made an hour later, we are all for that."
Using a CAM System to Take Their Designs to the Next Level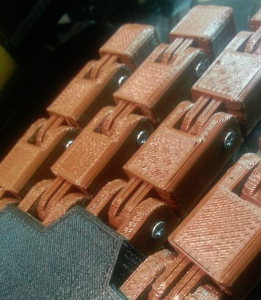 They do a lot of in-house production using a Tormach 1100 CNC machine with a 4th axis. "It was easy to get started," says Easton. "We use SOLIDWORKS for our modeling and then go directly into BobCAM with STL files we create to get the right toolpaths and the g-code we need."
Unlimited Tomorrow believes the combination of current technologies with open ended curriculum is a powerful combination to produce creativity in today's classrooms.
"Students can learn about all of this at a much younger age than ever before and have real practical knowledge," says Easton. "The open source aspect of this is creating teams of online developers, engineers and makers out there which is really amazing."
Giving students access to advanced technology at a younger age can only help to strengthen their learning experience and offer better opportunities for them as they transition to the workforce. Easton LaChappelle is certainly an amazing example of this.
For more information on BobCAD-CAM CAM System software, contact BobCAD-CAM directly at 877-262-2231 or 727-442-3554.
CLICK HERE to sign up your school for the Manufacturers of the Future Program Today!
CLICK HERE to download a free CAM programming trial from BobCAD-CAM!
Summary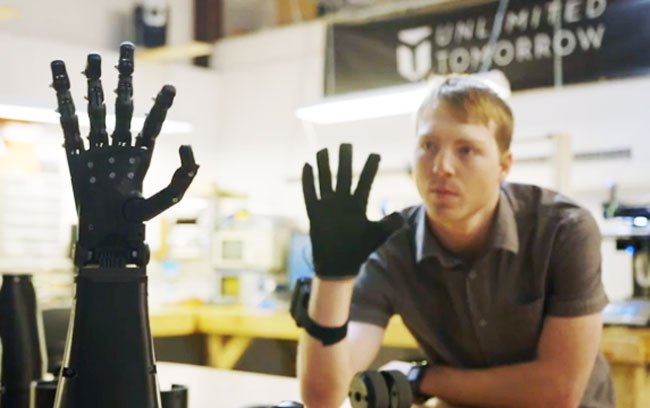 Article Name
Young Inventor Turns to CAD CAM System for Design Innovation
Author
Nick Erickson | BobCAD-CAM
Description
Nineteen year old inventor, Easton LaChappelle, has spent the past five years developing game changing advancements in the prosthetic industry with the help of open source forums and advanced manufacturing and CAM system technology .