Manufacturers of the Future Launches New Educational Program Website
April 22nd, 2015
Chris Corbell
The Manufacturers of The Future program by BobCAD-CAM was created as an educational resource for schools, educators and students, the new site provides a platform for the CNC manufacturing industry's academia crowd to interact, keep current on industry news, and gain access to affordable CAD-CAM resources.

Solutions for Learning CAD-CAM Software Every School Can Win From
BobCAD-CAM, Inc., developers of the easy to use and affordable line of CAD-CAM software, have debuted today the stand-alone website www.ManufacturersOfTheFuture.com to support the rapid expansion of their Manufacturers of the Future program.
The website was developed as a resource where both educators and students can turn for trending industry topics, webinars, training & educational videos, infographics, educator testimonials, and more. Most importantly, the site includes an engaging forum where visitors can post questions, discuss emerging technology, and trade career and academic advice. As an added benefit, visitors can sign up for free educational white papers as a way to stay on top of CAD/CAM technology in the manufacturing industry.
The program, which launched in 2012, has gained significant traction due to the simple fact that there was an opportunity and need for schools to better prepare their students for a career in CAD-CAM.
Director of Education for Manufacturers of the Future and former member of the US Armed Forces, Dane Pendleton, took over the program earlier this year. At that time, the program's focus was primarily the development of relationships with colleges, vocational schools, and students. Since then, Pendleton has expanded the programs reach to include members of the US Armed Forces returning from service and assisting them in a transition to a prosperous career in the manufacturing industry through CAD/CAM.
Pendleton views the website as a major step in creating broader program awareness, "The launching of this website couldn't have come at a better time. It makes it that much easier for us to get valuable industry resources in the hands of students and educators. I love the direction that the program is heading and can see that we are truly creating value for educators and opportunities for students to enhance their marketability in the eyes of employers."
BobCAD-CAM has also developed a sister-program called, Work-Ready, which is geared towards assisting students transform their academic foundation into career success. Typically, CAD-CAM software is priced well out of reach of your average student. However, with Work Ready, students can finally access powerful CAD-CAM software for the price of a textbook and take the tools, knowledge, and experience with them as they move into their careers.
For over 30 years, BobCAD-CAM has been dedicated to designing powerful, user-friendly and affordable CAD/CAM software. BobCAD-CAM products are used in machine shops and schools all over the world - helping to automate the machine process for mill, lathe, router, wire, router, laser, plasma, waterjet, and EDM. They provide easy to use and efficient solutions for g-code editing, machine simulations, art – raster to vector & embossing, nesting, and mill, lathe, & EDM programming.

Contact Dane Pendleton, Education Director for Manufacturers of the Future, at (877) 262-2231 ext. 141 for more information or to get your school and students involved in the program.

[download_link url="https://bobcad.com/free-cad-cam-demo-downloads/" cta="DOWNLOAD VERSION 31"]
Summary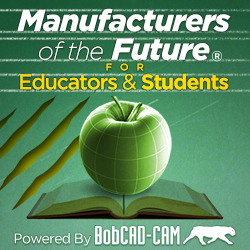 Article Name
Manufacturers of the Future Launches New Educational Program Website
Author
Nick Erickson | BobCAD-CAM
Description
BobCAD-CAM, Inc. has launched an all new website dedicated to their educational program called, "Manufacturers of The Future" to help schools, teachers and students in manufacturing succeed with CAD-CAM software, training and more.