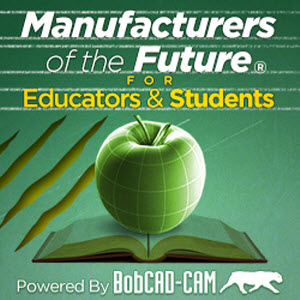 CAD-CAM software is a critical component of CNC manufacturing and metalworking due in large part to its ability to automate the design and manufacturing process. The influence of computer aided design and computer aided manufacturing technology can be seen in how we live our everyday lives as consumers. It's used to help manufacture nearly every mass produced consumer product on the planet. It also has a very important role in prototyping new designs and allowing engineers to create precision parts quicker and easier.
CAD-CAM Software Influence on Modern Manufacturing
Modern manufactured products that are designed and made with CNC machinery can be made faster and for significantly less than ever before. Advances to machining actions offered by affordable CAD-CAM programming software now allow smaller manufacturing shops to compete with much larger shops. In addition to evolutions in CAD-CAM software, tool builders have continued to make improvements to CNC metalworking and machining capabilities, which has had a tremendous impact on manufacturing productivity and quality.
None of this would be possible without education programs that continue to turn out the next generation of engineers, designers, and machinists. As technology changes and advances, schools, teachers, and students must remain on the cutting edge of manufacturing technology for this industry to survive and grow.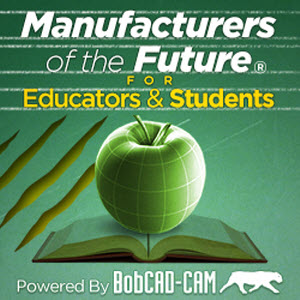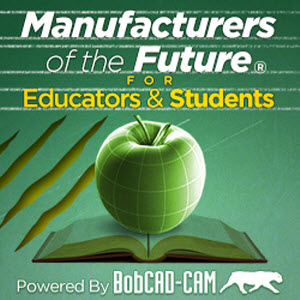 In 2012, BobCAD-CAM, Inc. launched an educational program called "Manufacturers of the Future" that targets the specific needs of schools which includes the need to provide quality design and CNC programming technology in the classroom.
The goals of the program include:
Make CAD-CAM easily accessible.
Provide relevant teaching resources for educators and instructors that enhance the learning experience.
Offer an affordable full license CAD-CAM system to students so they can own a copy of the software to do classwork at home and take it with them into their design and manufacturing careers after graduation.
So why do teachers and students love the Manufacturers of the Future program?
Here are 5 of the top reasons why:

Full license 2D & 3D CAD-CAM software products can typically price out in the range of $10,000 to $20,000. At this cost, it's easy to see why many schools and teachers struggle with accessing CNC programming functionality outside of basic 2.5 axis. The Manufacturers of the Future programs offers powerful CAD-CAM software at a discounted rate. It's at a price point that makes sense for education programs so they can offer their students the chance to learn on professional grade 2.5, 3, 4, and 5 axis technology that is used every day in all types of manufacturing industries. There are never any hidden costs or maintenance fees and the education package even includes training products and technical support for the class.

BobCAD-CAM CNC programming software is a modular system. This means that the CAD-CAM features can be set up to meet the unique requirements of the education program. It also means that additional programs can be supplemented in the future to grow with the class curriculum. CAD-CAM functionality ranges from 2.5 axis, 3 axis, 4 & full simultaneous 5 axis machining technology.
If the school program includes a CNC router with applications such as sign or jewelry making, the BobCAD-CAM software can utilize the 4 axis module and BobART for artistic applications that involve vectorizing pictures, embossing, v-carving, wrapping and much more. Post processing would be for 4 axis indexing and rotary machining situations in this case.
Machine simulation can be included to visualize the machining operation using the shops actual machine(s). BobCAD-CAM also offers a nesting and sheet-optimizing module for shape cutting which is designed to maximize sheet usage and reduce material waste. All school, class, or lab CAD-CAM packages are customized to ensure the right technology is provided for the individual education program.

It's pretty common for CAD-CAM vendors to charge additional fees for training products and technical services. The BobCAD-CAM Manufacturers of the Future program doesn't charge additional fees for these services. School and instructor packages include training products such as multimedia training videos, live online instructor training, and access to training seminars that include operator certification. Live phone support is also included as a standard benefit.
The goal of the program is to provide the best quality service and training to ensure that classes are not delayed while waiting for support issues to be resolved. Training products include sample CAD files for unique step-by-step tutorials in conjunction with videos to accelerate the learning process. This system ensures that every feature is understood and that students can easily learn the software.

Given the fact that many small to medium sized manufacturers and job shops work with BobCAD-CAM's industry proven CAD-CAM software, the Manufacturers of the Future program was created to assist the talent being hired into these companies. Without training on products like BobCAD-CAM, students can end up entering their careers without the knowledge they need to succeed. The Manufacturers of the Future program assists schools with providing access to CAD-CAM for their classroom, but what about the student?
With the Manufacturers of the Future program, BobCAD-CAM makes it easier for students by filling the gap between the expensive CNC programming technology products and what is affordable for the small to medium size manufacturers that many graduates will work at. This means that students qualify for BobCAD-CAM 2D & 3D CAD-CAM software at a special student price. This allows students to enter the workforce with the tools needed to succeed in CNC programming and machining careers.

BobCAD-CAM created ManufacturersOfTheFuture.com to not only promote the program to schools and students, but also as an online source that includes a complete resource section for both teachers and students. The site also offers an educational forum where design and CNC machine programming information can be shared between peers and educators. There are CAD-CAM technology white papers, PowerPoint presentations, related links, a frequently updated blog with program and industry news, and much more. All teachers and students are encouraged to visit this great new site to learn and share knowledge.
CLICK HERE to sign up your school for the Manufacturers of the Future Program Today!
Contact Education Specialist, at 844-529-0660 for more information or to get your school and students involved in the program.
Summary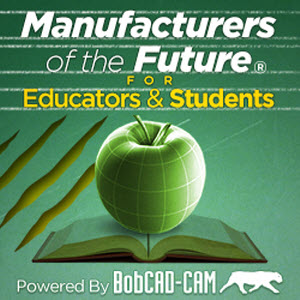 Article Name
5 Reasons Why Teachers Love the Manufacturers of The Future CAD-CAM Program
Author
Nick Erickson | BobCAD-CAM, Inc.
Description
Education programs have to keep pace with modern manufacturing to ensure the next generation of innovators help grow and advance the industry. Manufacturers of the Future is partnering with education programs all over the world to help achieve this. Here's why it's working!
Nick Erickson
June 12th, 2015 Posted In:
Articles
,
News
,
Uncategorized